Mamy przetasowanie na liście najdroższych dzieł sztuki stworzonych przez żyjących artystów. Obraz Portret artysty (basen z dwiema postaciami) z 1972 roku brytyjskiego artysty Davida Hockneya został sprzedany 16 listopada na aukcji w Christie's za 90 mln 312 tys. 500 dolarów, ustanawiając nowy rekord cenowy za dzieło żyjącego artysty i detronizując Jeffa Koonsa i jego pomarańczową rzeźbę Balloon Dog (58,4 mln dol.). Oczywiście tożsamość nabywcy nie została podana do publicznej wiadomości.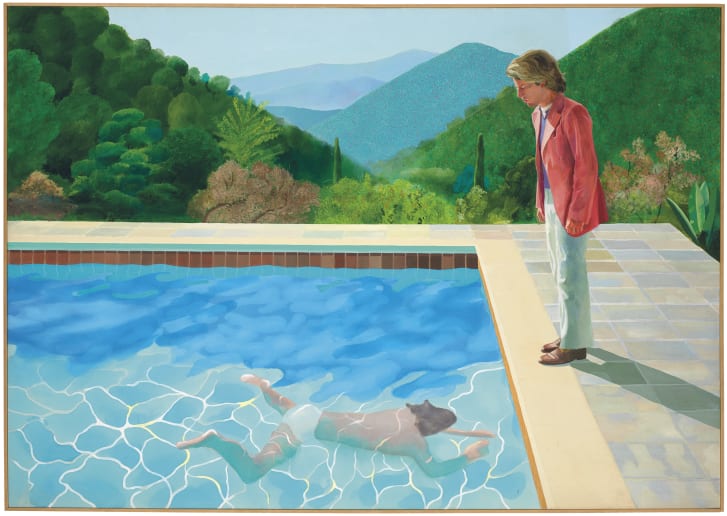 David Hockney. Portret artysty. 1972. Źródło: christies.com
Tą sprzedażą 81.letni David Hockney umocnił swoją pozycję wśród najbardziej popularnych artystów na świecie. Ponad milion gości odwiedziło jego ostatnią retrospekcję w 2017 i 2018 roku, której gospodarzami były Tate Modern, Metropolitan Museum of Art i Centrum Pompidou, a jego dotychcasowy rekord aukcyjny wynosił 28,5 miliona dolarów.
Portret artysty (basen z dwiema postaciami)
jest jednym z najbardziej rozpoznawalnych dzieł Hockneya. Podwójny portret przedstawia młodego mężczyznę stojącego na brzegu basenu, spoglądającego na zanurzonego pływaka, dawnego ukochanego Hockneya, kalifornijskiego artystę Petera Schlesingera, z którym autor rozstał się rok wcześniej. Monumentalny obraz, który pod pod pozorem iddyllicznego krajobrazu przy basenie ukazuje ogromną złożoność relacji międzyludzkich, pozwala dostrzec całą błyskotliwość Davida Hockneya jako artysty.
Baseny były jedną z jego głównych inspiracji od momentu jego pierwszej przeprowadzki z Anglii do Kalifornii w 1964 roku.
Zawsze uwielbiałem baseny, wszystkie te falujące linie
powiedział artysta w CNN w 2017 roku.
Możesz je "zamrozić" używając aparatu fotograficznego, ale jeśli użjesz farby, możesz przy pomocy falujących lini stworzyć iluzję ruchu.
Co takiego zachwyciło artystę w basenach? Kalifornia, ziemia obiecana Hockneya, była dla niego wszystkim, czym nie była Anglia. Homoseksualny chłopak z Bradford w Yorkshire, czwarte z pięciorga dzieci z robotniczej rodziny, odnalazł miejsce, które oferowało ucieczkę od jego nudnego otoczenia. "Fabryka snów" w Hollywood zaoferowała mu prywatny, migotliwy sen. Hockney natychmiast wyczuł okazję, że Kalifornia, a zwłaszcza LA, to niezbadane terytorium, które mógł wykorzystać jako malarz. Młodemu artyście, który dorastał w Wielkiej Brytanii podczas Drugiej Wojny Światowej, baseny LA musiały wydawać się niemal niemożliwie luksusowe i egzotyczne, a prywatny basen szybko stał się symbolem Kalifornii. Pierwszym obrazem z basenem, który namalował Hockney, był
Kalifornijski kolekcjoner sztuki
(1964), zainspirowany wizytami w eleganckich domach kolekcjonerów na zachodnim wybrzeżu, nawiązujący jednocześnie do motywów z Bacona i Piera della Francesci.
David Hockney. California Art Collector. 1964. Źródło: thedavidhockneyfoundation.org
Dla Hockney Kalifornia była światem obfitości. Baseny w jego świecie reprezentują hedonizm, wolność seksualną i prostą radość życia. Malowanie basenów pozwoliło mu także przedstawiać pięknych, półnagich młodych mężczyzn, nie będąc jednocześnie podejrzanym o propagandę homoseksualną. Jednocześnie mógł zgłębiać kwestie techniczne i formalistyczne, a nawet nawiązać dialog ze współczesną abstrakcją, przedstawiając niematerialność: wodę i światło, przejrzystość oraz różne rodzaje płynności. Wydaje się, że malując Kalifornię, krainę powierzchni, Hockney tworzył zaskakująco głębokie obrazy.
A Bigger Splash. 1967. Źródło: tate.org.uk
Portrait of Nick Wilder. 1966. Źródło: artchive.com
Hockney w swoich obrazach zaproponował nowatorskie podejście do malowania basenów, jednak temat nie był nowością w sztuce. Kąpiący byli ważnym tematem dla artystów XIX i XX wieku, od Renoira i Seurata po Cezanne'a i Matisse'a. A możemy się cofnąć nawet i do
Narodzin Wenus
Botticellego.
Henri Matisse
stworzył swoje dzieło
Basen
w 1952 roku po wizycie na swoim ulubionym basenie w Cannes, używając do tego nożyczek i papieru w kolorze ultramaryny. Jedyny i niepowtarzalny wodny balet ciał, plusk wody i migotanie światła – perfekcyjne połączenie tematu i środków. Oryginał został rozmieszczony na białej papierowej taśmie na ścianach jadalni w Hôtel Régina w Nicei. Tło stanowiło jasnobrązowe płótno, popularne pokrycie ścienne w tamtych czasach. Po śmierci Matisse'a w 1954 roku dzieło zostało zdemonowane i decyzją żony i córki artysty ponownie zmontowane w paryskim studiu Lucien Lefebvre-Foinet. W 2015 roku zostało poddane renowacji i wystawione w MOMA (Muzeum Sztuki Nowoczesnej) w Nowym Jorku.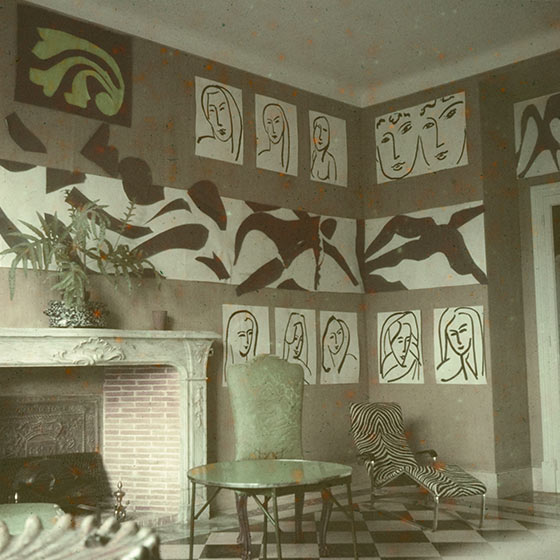 Henri Matisse. Basen. 1952. Źródło: moma.org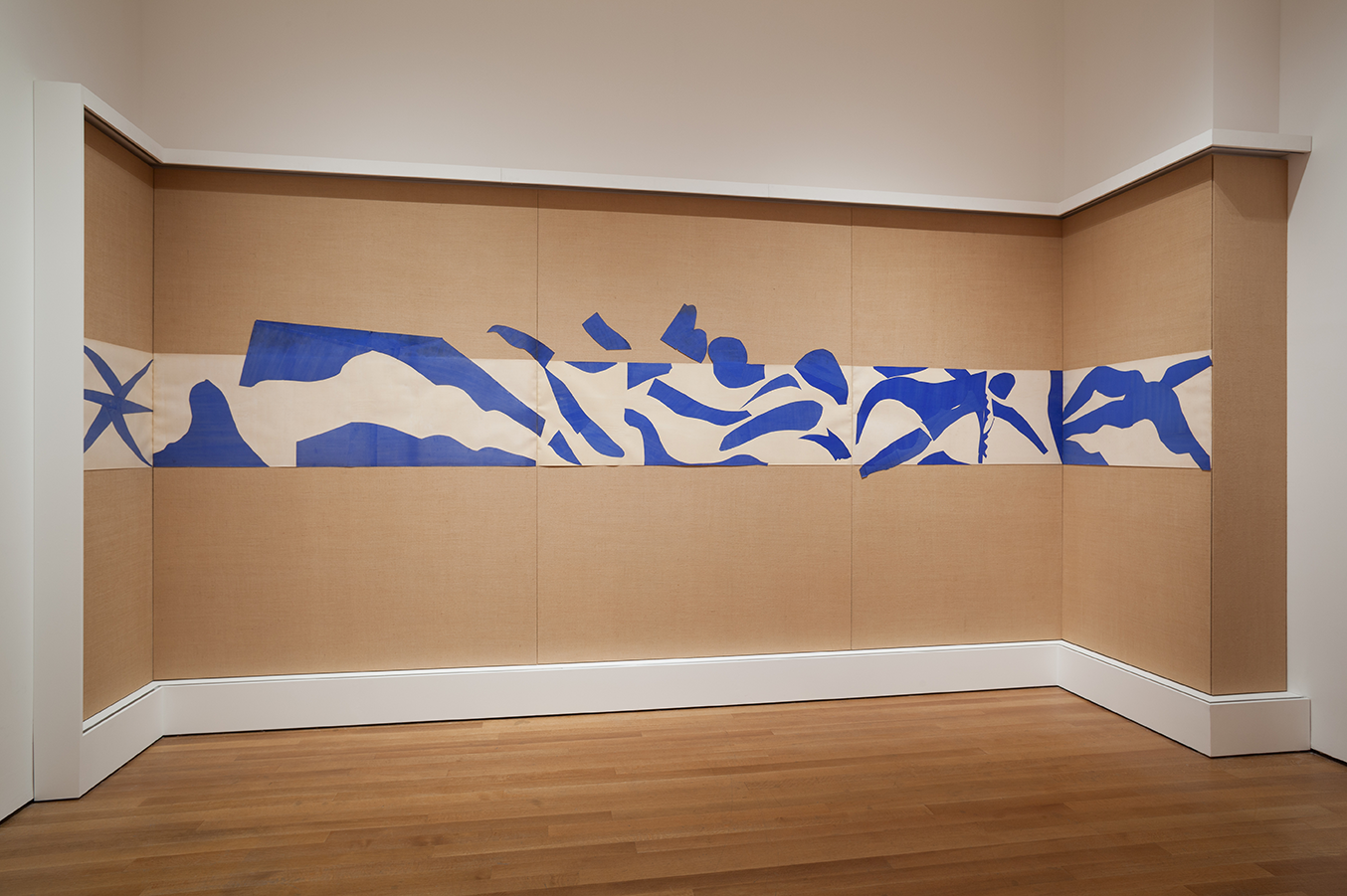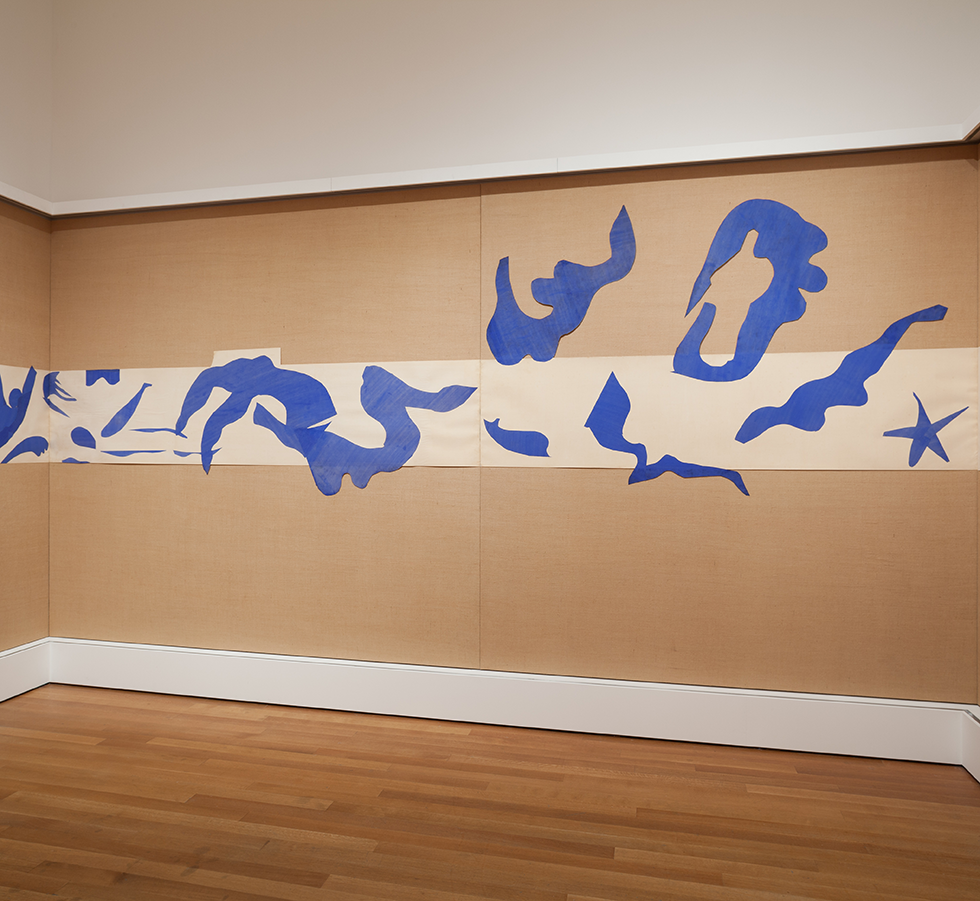 Henri Matisse. Basen. Moma. NY. 1952/2015. Źródło: moma.org
Baseny są inspiracją także dla współczesnych fotografów. Dwie artystki młodego pokolenia – mieszkająca w Nowym Jorku Francuzka
Karine Laval
i Słowaczka
Maria Svarbova
są zafascynowane tematem basenów. Serie
The Pool
i
Poolscapes
autorstwa
Laval
zrealizowane na basenach Cascais, Barcelony, Paryża, Oslo, Annecy, Capri i wielu innych miast, mieszczą się gdzieś między rzeczywistością a nierzeczywistością. Artystka dokonuje sztuki mieszania rzeczywistości i marzeń, lub po prostu pokazuje nam wiele aspektów tej samej rzeczywistości. Jej prace zapraszają nas, abyśmy odwrócili się od percepcji, która byłaby ograniczona do jednego punktu widzenia.
Karine Laval. The Pool. 2002-2005. Źródło: karinelaval.com
Karine Laval. Poolscapes 2009-2010. Źródło: karinelaval.com
Natomiast w pracach
Marii Svarbovej
wyczuwa się chłodny dystans i elegancję. Rutynowe czynności są pokazane z nieprawdopodobną precyzją wizualną. Efekt wywołuje kontemplacyjną ciszę – jakość trudną do osiągnięcia w szybkim tempie współczesnego życia. Postmodernistyczna wizja Marii zmusza widza do zastanowienia się nad samotnością i izolacją ludzkiego doświadczenia. Osadzone w wodnych pastelach kompozycje artystki emanują elegancją, będąc jednocześnie hołdem dla prostego piękna życia.
Maria Svarbova. The Swimming Pool. 2014. Źródło: mariasvarbova.com
Jednym z najbardziej zaskakujących dzieł sztuki przedstawiających basen jest instalacja
The Swimming Pool
argentyńskiego artysty konceptualnego o międzynarodowej sławie – [/i]
Leandra Erlicha
. Iluzoryczny basen w latach 2008-2010 był wystawiony w MOMA w Nowym Jorku, a aktualnie znalazł swoje docelowe miejsce w Muzeum Sztuki Współczesnej XXI wieku w Kanazawie w Japonii. Artysta zbudował pełnowymiarowy basen z niektórymi elementami wyposażenia (m. in. podestem i drabinką). Zwiedzający instalację z poziomu pierwszego piętra mogą obserwować surrealistyczne sceny, gdy w pełni ubrani ludzie stoją, chodzą i oddychają pod powierzchnią wody. Dopiero, gdy goście wchodzą do galerii z najniższego poziomu, widzą, że basen jest pusty, a jego konstrukcja jest wizualną sztuczką, wykreowaną przez artystę. Solidna tafla akrylu rozpościera się nad niecką i utrzymuje nad nią cienką warstwę wody, tworząc iluzję wypełnionego wodą basenu. W swojej instalacji Erlich prowadzi grę z percepcją i poddaje w wątpliwość nasze rozumienie zjawisk, wchodzenie w związki z przestrzeniami i odbiór rzeczywistości.
Leandro Erlich. The Swimming Pool. Zdjęcia: Leandro Erlich. 2016. Źródło: ignant.com
Jeśli macie ochotę na nawiązanie własnych relacji z basenem, zapraszamy do któregoś z nowootwartych parków wodnych. Lub do galerii...
Komentarze (55):